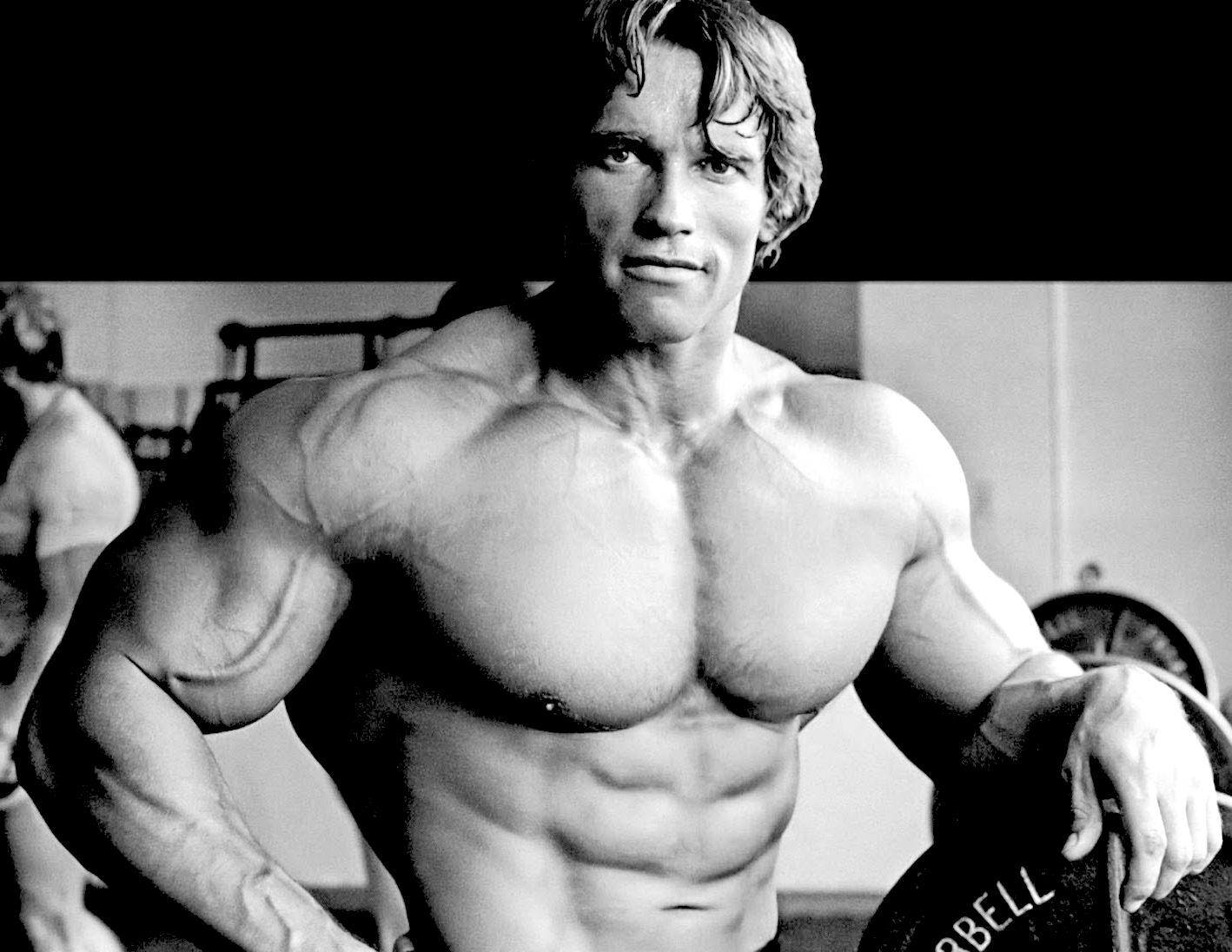 We particularly enjoyed Arnie as the Terminator, though his is pretty good in a whole host of comedy movies, Kindergarten Cop, Twins and Jingle All The Way.
Arnold Schwarzenegger is considered among the most important figures in the history of bodybuilding, and his legacy is commemorated in the Arnold Classic annual bodybuilding competition. He has remained a prominent face in bodybuilding long after his retirement, in part because of his ownership of gyms and fitness magazines. He has presided over numerous contests and awards shows.

For many years, he wrote a monthly column for the bodybuilding magazines Muscle & Fitness and Flex. Shortly after being elected governor, he was appointed the executive editor of both magazines, in a largely symbolic capacity. The magazines agreed to donate $250,000 a year to the Governor's various physical fitness initiatives. When the deal, including the contract that gave Schwarzenegger at least $1 million a year, was made public in 2005, many criticized it as being a conflict of interest since the governor's office made decisions concerning regulation of dietary supplements in California. Consequently, Schwarzenegger relinquished the executive editor role in 2005. American Media Inc., which owns Muscle & Fitness and Flex, announced in March 2013 that Schwarzenegger had accepted their renewed offer to be executive editor of the magazines.

One of the first competitions he won was the Junior Mr. Europe contest in 1965. He won Mr. Europe the following year, at age 19. He would go on to compete in many bodybuilding contests, and win most of them. His bodybuilding victories included five Mr. Universe wins (4 – NABBA [England], 1 – IFBB [USA]), and seven Mr. Olympia wins, a record which would stand until Lee Haney won his eighth consecutive Mr. Olympia title in 1991.

Schwarzenegger continues to work out. When asked about his personal training during the 2011 Arnold Classic he said that he was still working out a half an hour with weights every day.
POWER/WEIGHT LIFTING

During Schwarzenegger's early years in bodybuilding, he also competed in several Olympic weightlifting and powerlifting contests. Schwarzenegger's first professional competition was in 1963 and he won two weightlifting contests in 1964 and 1965, as well as two powerlifting contests in 1966 and 1968.

In 1967, Schwarzenegger won the Munich stone-lifting contest, in which a stone weighing 508 German pounds (254 kg / 560 lb) is lifted between the legs while standing on two footrests.

Personal records

Clean and press – 264 lb (120 kg)
Snatch – 243 lb (110 kg)
Clean and jerk – 298 lb (135 kg)
Squat – 545 lb (247 kg)
Bench press – 520 lb (240 kg)
Deadlift – 683 lb (310 kg)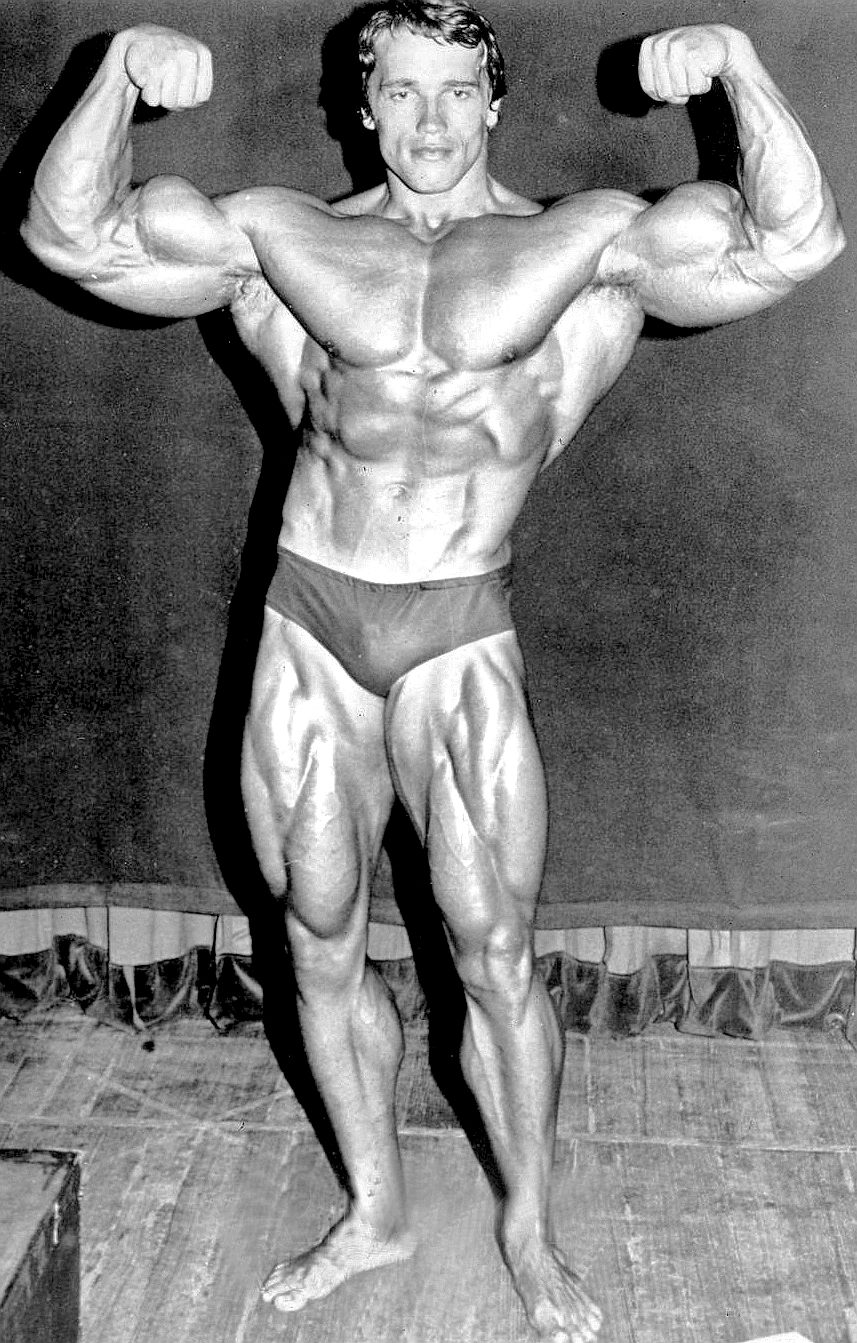 MR OLYMPIA

Schwarzenegger's goal was to become the greatest bodybuilder in the world, which meant becoming Mr. Olympia. His first attempt was in 1969, when he lost to three-time champion Sergio Oliva. However, Schwarzenegger came back in 1970 and won the competition, making him the youngest ever Mr. Olympia at the age of 23, a record he still holds to this day.

He continued his winning streak in the 1971–74 competitions. He also toured different countries selling vitamins, as in Helsinki, Finland in 1972, when he lived at the YMCA Hotel Hospiz (nowadays Hotel Arthur) on Vuorikatu and presented vitamin pills at the Stockmann shopping center. In 1975, Schwarzenegger was once again in top form, and won the title for the sixth consecutive time, beating Franco Columbu. After the 1975 Mr. Olympia contest, Schwarzenegger announced his retirement from professional bodybuilding.

Months before the 1975 Mr. Olympia contest, filmmakers George Butler and Robert Fiore persuaded Schwarzenegger to compete and film his training in the bodybuilding documentary called Pumping Iron. Schwarzenegger had only three months to prepare for the competition, after losing significant weight to appear in the film Stay Hungry with Jeff Bridges. Although significantly taller and heavier, Lou Ferrigno proved not to be a threat, and a lighter-than-usual Schwarzenegger convincingly won the 1975 Mr. Olympia.

Schwarzenegger came out of retirement, however, to compete in the 1980 Mr. Olympia. Schwarzenegger was training for his role in Conan, and he got into such good shape because of the running, horseback riding and sword training, that he decided he wanted to win the Mr. Olympia contest one last time. He kept this plan a secret in the event that a training accident would prevent his entry and cause him to lose face. Schwarzenegger had been hired to provide color commentary for network television when he announced at the eleventh hour that, while he was there, "Why not compete?" Schwarzenegger ended up winning the event with only seven weeks of preparation. Having been declared Mr. Olympia for a seventh time, Schwarzenegger then officially retired from competition. This victory (subject of the documentary The Comeback) was highly controversial, though, as fellow competitors and many observers felt that his lack of muscle mass (especially in his thighs) and subpar conditioning should not have allowed him to win against a very competitive lineup that year. Mike Mentzer, in particular, felt cheated and withdrew from competitive bodybuilding after that contest.
STATISTICS

Height: 6 ft 2 in (1.88 m)
Contest weight: 235 lb (107 kg) - the lightest 1980 Mr. Olympia: around 225 lb (102 kg), the heaviest in 1974 Mr. Olympia: around 250 lb (110 kg)
Off-season weight: 260 lb (118 kg)
Chest: 57 in (1,400 mm)
Waist: 34 in (860 mm)
Arms: 22 in (560 mm)
Thighs: 28.5 in (720 mm)
Calves: 20 in (510 mm)
You don't need weights to get fit, but they are necessary if you want to bulk up for any he-man part in television or the movies. Many extras have started from being the beef-cake in a crowd scene, especially pirate movies, then progressed to acting. Getting into the right frame of mind, is more than just pumping iron, it is a regime based on good diet, eating patterns and regenerative sleep.