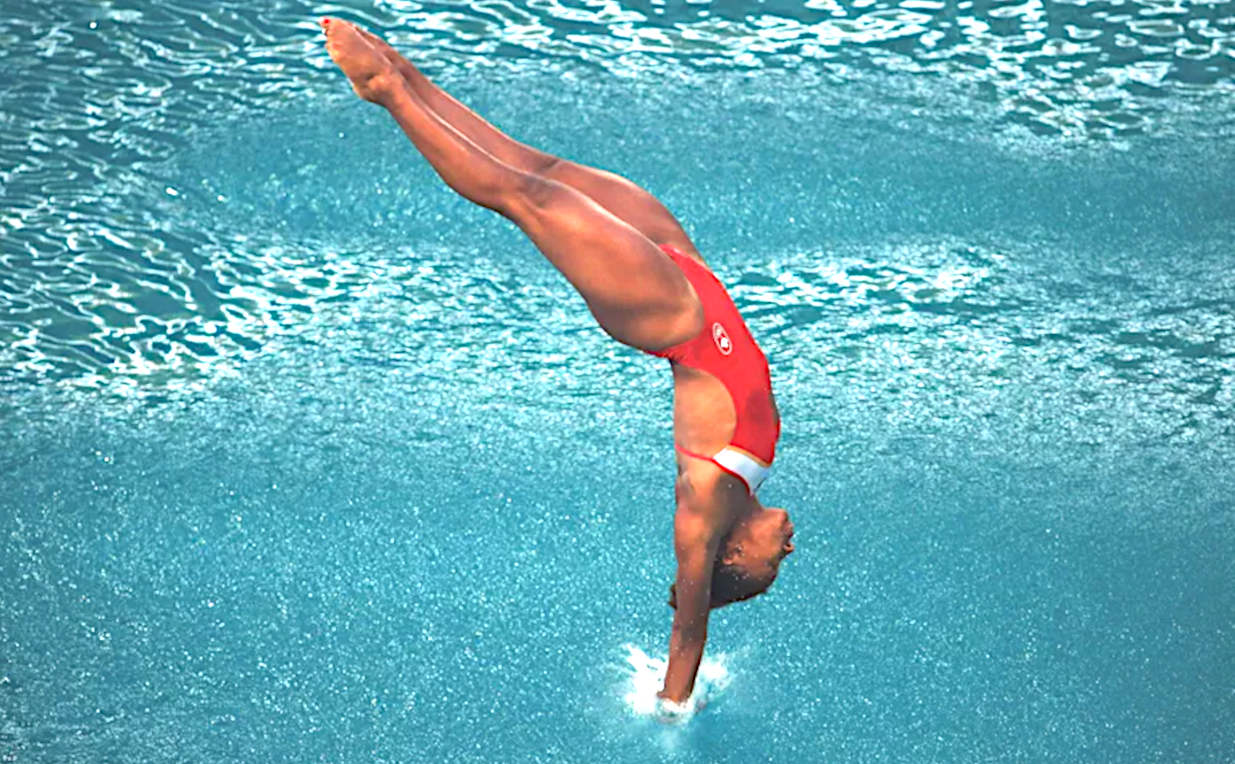 High diving is almost art in air and water. It is an Olympic sport, much enjoyed by the crowd for the thrill of the aerial acrobatics and final entry into the water. Anyone who has ever leapt from a high diving board will know the thrill the athlete experiences as the competitor launches themselves, striving for perfection in flight technique and hydrodynamic bliss, then the long wait to resurface and breathe again. And it is all over in seconds. So don't blink.


RULES & SCORING:
The rules used for judging and scoring an Olympic diving contest are dictated by FINA, the international governing body for aquatics and the body that oversees the sport of diving

Shown below, are many of the more important rules that govern Olympic divers in the competition, giving you an idea of what goes into judging an Olympic diving competition.

OLYMPIC DIVER REQUIREMENTS

Springboard Diving

All springboard diving in the Olympic Games is contested from a 3-meter springboard.
Men must complete six dives.
Women must complete five dives.
There is no limit on the total degree of difficulty for these dives.
At least one dive during the contest must come from each of five different categories: forward, back, reverse, inward, and twisting.
Men may repeat one of the categories for their sixth dive, women may not.
No dive can be repeated in a list of dives.
The sixth optional dive for the men may be chosen from any of the categories.

Platform Diving

Men must complete six dives.
Women must complete five dives.
There is no limit on the total degree of difficulty for these dives.
For the men, at least one dive during the contest must come from each of six different categories: forward, back, reverse, inward, twisting, and armstand.
No category can be repeated in a list of dives.
All dives must be performed from the 10-meter platform.

Synchronized Springboard and Platform Diving

Women must complete five dives.
Men must complete six dives.
The first two dives for both the men and women are assigned a degree of difficulty of 2.0.
The remaining three dives for the women and four dives for the men have no limit on the degree of difficulty.
Both men and women must complete dives that come from at least four different categories, with at least one dive facing forward and that dive cannot be performed from a standing position on the springboard.
Within the menís six dives, a category cannot be used more than twice.

Judging Olympic Divers

* A judge in a diving contest shall award from 0 to 10 points for a dive according to his or her overall impression using the following criteria:
- 10: Excellent
- 8 1/2 to 9 1/2: Very good
- 7 to 8: Good
- 5 to 6 1/2: Satisfactory
- 2 1/2 to 4 1/2: Deficient
- 1/2 to 2: Unsatisfactory- 0: Completely Failed

* When judging a dive, the judge must not be influenced by any factor other than the technique and execution of the dive. The dive must be considered without regard to the approach to the starting position, the difficulty of the dive, or any movement beneath the surface of the water.

* The following elements must be considered of equal importance by a judge before awarding a score:
- The starting position and the approach
- The take-off
- The flight- The entry

* The synchronized diving competition involves two competitors diving simultaneously from the springboards or platform. The competition is judged on how the two divers individually perform their dives, and how the two divers as a team synchronize their performance.

* The factors to be considered when judging synchronized diving are:
- The starting position, the approach and the take-off, including the similarity of the height
- The coordinated timing of the movements during the flight
- The similarity of the angles of the entries
- The comparative distance from the springboard or platform of the entry
- The coordinated timing of the entries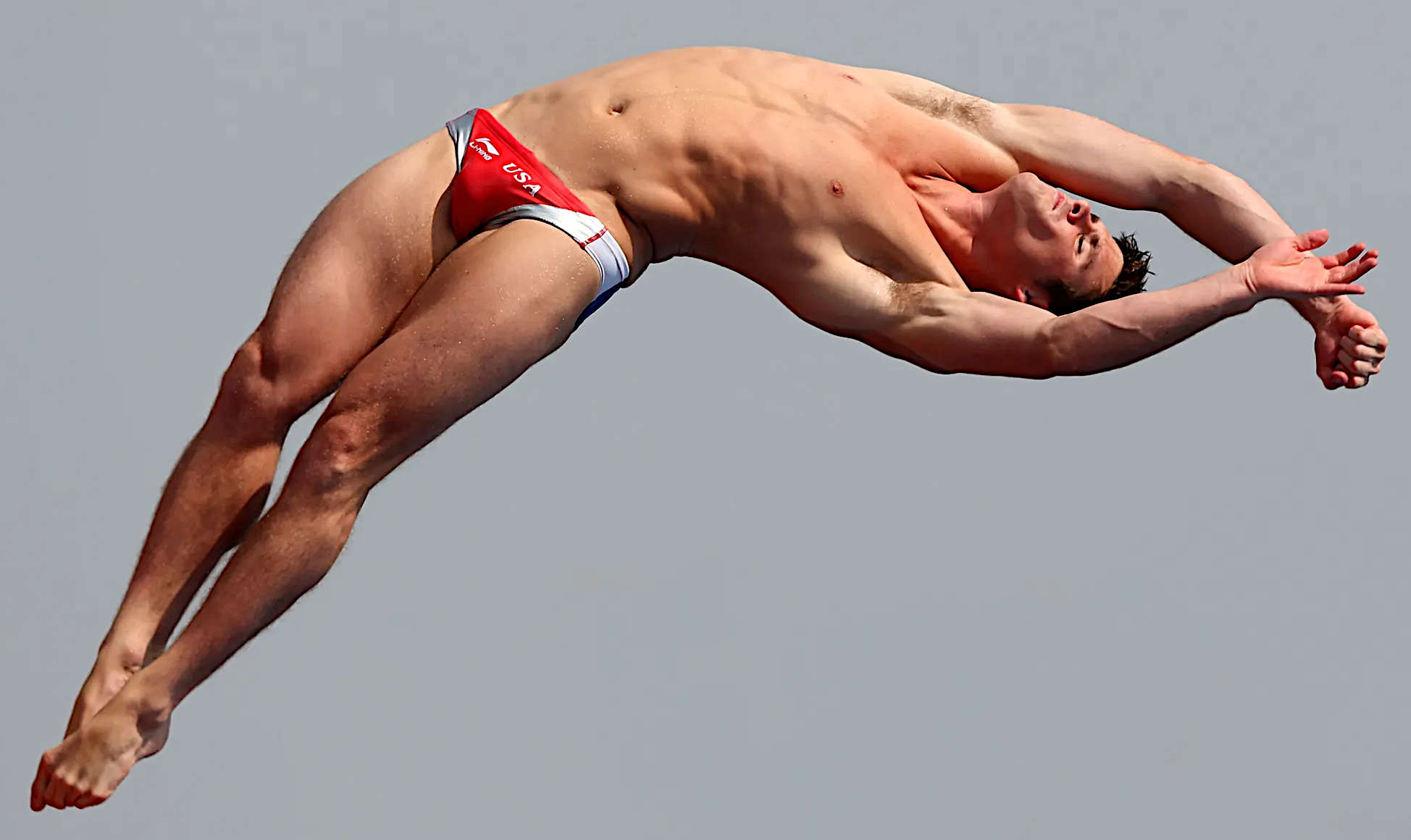 DIET OF A HIGH DIVER: DAVID BOUDIA
Diving is hard. David Boudia is quoted as saying: ďI think nine times out of 10 people confuse this with swimming.Ē Diving, as its name might suggest, has very little to do with swimming. ďAll I have to do is doggy paddle 10 feet to the edge of the pool. I jump, try to do flips, and go into the water with little splash.Ē

On top of all the ordinary discipline you need to be a top athlete, to be a great diver you need to get over being hungry. When preparing for competition, David eats as few as 1,800 calories a day - a sharp drop from what most pro athletes eat. Diving is obviously not as endurance-heavy as something like soccer, itís not even as drawn out as a tennis match. In competition, your game is over in moments. ďI donít burn a lot of calories in the pool. Iím burning most of my calories climbing up about 50 stairs. I walk up, dive, walk up, dive, maybe 80 times a practice.Ē

Boudia and his diving partner, Steele Johnson, were killing it at the Olympic trials, making strong performances in the run up to Rio. Divers need a lot of explosive power from their legs, so training deals pretty heavily with squats, plyometrics, core work, and of course working out arms so they donít look out of proportion and Velociraptor-ish.

But also, you donít want to look big. Divers are notoriously fit, possibly the most aesthetically pleasing athletes who donít have to be professionally good-looking, but the need for low body fat is bigger than just vanity. Feeling bloated while trying to perform, looking down at the water and feeling like all you can see is your inflated gut, can wreck a dive. So when itís competition time, Boudia drops about 15 pounds, down to 160. And since, as weíve established, thereís not a ton of cardio built into diving, dieting is a big deal.

Boudia is quoted as saying: ďMy wife is a dietician and there was a learning curve for a little while because she was used to working with athletes who needed tons of calories. But we figured out something that works.Ē One part of the something that works is a monster smoothie at the start of the day, noteworthy because itís the one time during the day Boudia actually feels full.
Another facet is three small lunches spread over the course of the day: chips and salsa, carrots and hummus, mostly things that you would put in a Ziploc bag in a childís lunchbox. Which should make packing and meal planning easy.

Breakfast - Protein pancake (egg whites, oats, yogurt, cinnamon, blueberries)

Post-workout Breakfast - Smoothie with strawberries, blueberries, oats, spinach, peanut butter protein powder, Zico coconut water

First Lunch - Apple slices with peanut butter

Second Lunch - Turkey slices rolled with cheese

Third Lunch - Carrots and hummus

Dinner - Barbecue chicken and polenta, with sliced avocado, and peaches


PREPARING FOR YOUR CHOSEN WATER SPORT

Most water sporting enthusiasts donít need an intensive exercise regime to enjoy their chosen sport, which tends to keep you fit and active stand-alone. That said, strength and endurance can be really beneficial when youíre spending a lot of time on, or in the water - and give you the endurance edge over other teams in, for example, competitions, when you will need a far higher level of power and endurance. Especially swimmers and rowers.

The type of water sport you love will impact the type of training you need. It is specific to your expectations. For example, leisure canoeing and scuba divers may not need to be ocean athletes. But it pays to keep your body in good condition, to be able to meet any challenges rivers and seas can throw at you, and keep your mind alert to changing conditions, when the opportunity to build up stamina during sporting activities is limited, those exertions rather draining reserves.

Diet is important, to help you stay in shape, and to build up your stamina before embarking on your water based adventures. Water being one of the most important ingredients for life on planet earth.

Exercise and diet is thus interlinked, especially for those who are climate conscious, perhaps contemplating a pescatarian, vegetarian, or most demanding of all, a vegan diet while afloat.

When you canít get out or in the water, try to work on your fitness at home instead. It is hard to stay in shape during off-seasons, with high calorie meals during winter celebrations, that pile on the pounds. Making it all the more difficult to stay fighting fit when itís time to get back to your water sport.
Canoeing
Diving (high)
Kite Surfing
Octopush
Olympics Games
Rowing
Scuba Diving
Surfing
Swimming
Water Polo
Water Skiing
Whitewater Rafting
Yachting
The stronger you become both mentally and physically, the better you will become at coping with the stresses associated with competition, if that is your aim. You need to be sharp, prepared and capable in order to win competitions. Especially when competing in the Olympic Games.

If you want to improve your general fitness, you don't need to be quite so disciplined and focused. But, it pays to make the effort when you can.

So think about your health, diet and exercise, for which you will see results, and being healthier, is one way of remaining youthful and living longer. If it was easy, then everyone would be doing it.
TEAM ELIZABETH SWANN - A different kind of water sport: Terry and Ryan are team members of the Elizabeth Swann, JVH2, hydrogen powered ocean racing trimaran. A boat designed to challenge the diesel record, to achieve a circumnavigation in under 80 days - as per the famous Jules Verne novel. Terry says: The fitness fundamentals for sailors are aerobic endurance and muscle strength is much the same as for most water sports. Diet is very important, linked to a good exercise regime. Terry is a vegan and personal trainer. He has never been fitter and stronger, than when changing to a no-meat dietary plan. Their team are looking for an experienced skipper on the south coast of England, for an attempt at, and to set a Jules Verne zero emission record, aiming for a boat in the water by 2024 - the 150th anniversary of Verne's prediction that H2 would be the fuel of the future. Contact the Cleaner Ocean Foundation for more information.